December 17, 2021
Uncategorized
Foreign investment in Mexico's logistics industry.
Foreign direct investment (FDI) in Mexico during the first half of 2017, was $15,645.2 million dollars,
the transport, postal and storagesector achieved 11.7% of that amount, which represents an increase of 80% compared to 2016.
The growth of foreign investment is due to the stability of the country, as well as some Specialists they attribute it to the fact that since last April 2017, the Government allows foreign funds to have a participation of up to 49% in scheduled air transport services, being a measure apparently very attractive.
However, this situation should not be surprising, since according to the Agility Emerging Markets Logistics Index, Mexico occupies the 8th place
and is the best ranked Latin American country, providing greater security to investors.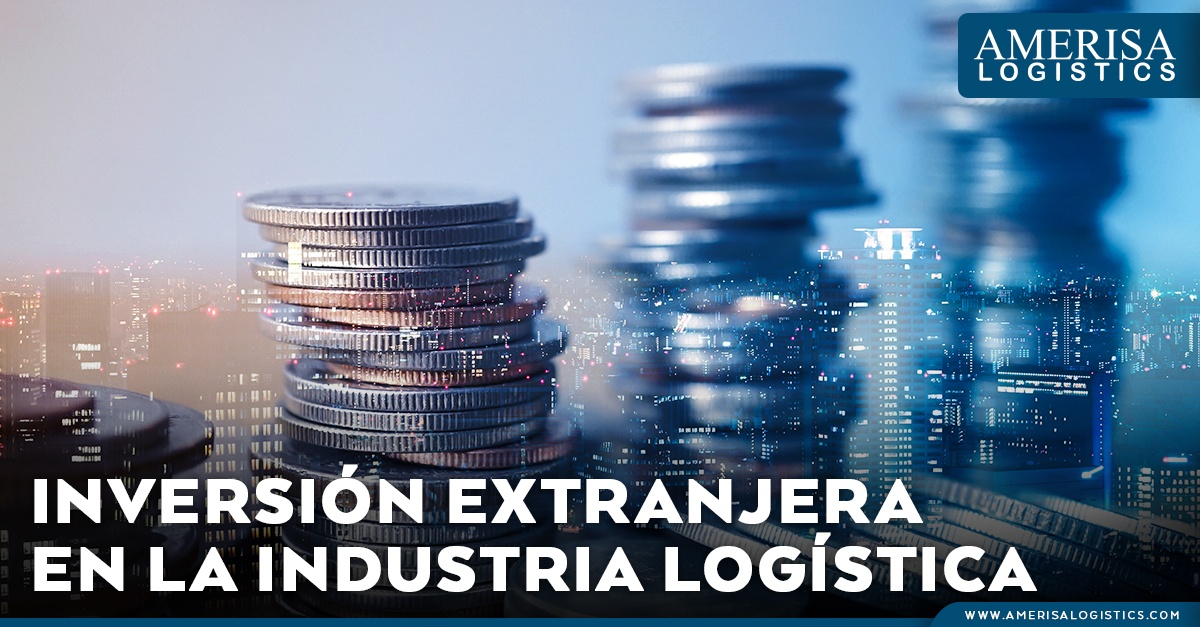 Logistics Centers in Mexico
As you have previously read, due to its excellent geographical location, Mexico has throughout its territory logistics points that are important for the sector, which is very attractive for foreign investments.
Within the country, the Logistics Centers
such as theOradel Industrial Park, in Nuevo Laredo, Tamaulipas; the El Convento Industrial Park and the Tultitlán Industrial Park, both in the State of Mexico to mention a few are the most representative.
In the center of the country, Tultitlán
is a benchmark for the logistics sector, since it offers access facilities in conjunction with infrastructure that provides an ideal place to have a commercial ally that can provide 3PL services in an efficient and comprehensive way.
There is so much confidence in this logistics center that Amerisa Logistics announced the expansion of 5000 m2 in its warehouses in that place, if you want to know more about the subject you can read it here.
For this same issue, it is also not surprising that the State of Mexico is consolidated as the logistics center of the country.
"Through the strengthening of the infrastructure in communications and betting on competitiveness, to have a modern economy and attract more investments that benefit Mexican families with the creation of more jobs," Alfredo del Mazo Maza,
Governor of the State ofMexico.
Another highlight is the southeast region of the country that presents an important growth, which translates into new terrains to do business not only nationally but internationally, becoming a domino effect because a foreign company when investing encourages others to turn to see the region.
In the Mexican southeast, Mérida is the strategic point, which offers multiple competitive advantages, among which four of them can be highlighted: infrastructure, location, connectivity and technology, they provide the conditions beyond those necessary to offer services from storage, distribution, cargo transport, international logistics, customs clearance, fiscal warehouse, assortment, assembly, product delivery, marbeteo among others.
at this point, it can provide you with a 4,500 m² AAA warehouse that offers you ramp and floor loading/unloading platforms; with a CCTV security system, 24/7 guards, immediate reaction alarms and a WMS with integration to ERP's, not to mention the port of Progreso which is a point of arrival and departure of products worldwide.
One of these foreign capital investments will be made Walmart, which plans to invest $650 million pesos in the construction of the first phase of the Logistics Center
for Mexico and Central America.
"Walmart de Mexico and Central America has been a pioneer in integrating logistics into its business model, looking for the best places and conditions to invest. The result has led to significant growth, accompanied by unprecedented productivity indices in the retail industry." Miguel Cavazza, Vice President of Logistics of Walmart of Mexico and Central America.
Just on the other side of the country, on the northern border, an excellent attraction is the so-called Nearshore,
whichoffers global connectivity, cost reduction, resource optimization and cultural similarity.
Now it only takes time for these new points to be strengthened and increase the logistical level in terms of service as well as quality.
{{cta('078136bd-ea00-4728-b2ec-a5690bddee1f')}}